Marcus Pearson AKA P Diddly Dacious lives in Rochdale, England. He is a happily married man with five children and three grandchildren (and growing). He has written two books on the Purpose of Life. These were written after he claims to have been 'enlightened' in 2013 and he has had subsequent enlightenments since. Everything he does and how he lives is underpinned by his desire to help others become enlightened.
He has worked in a supportive environment all his working life. As a contract work study engineer, management consultant, entrepreneur, sports coach, instructor and mentor for children, young people and adults. For the past ten years he has also focused on digital marketing, health, nutrition and exercise. Marcus has developed his own range of superfoods and his own holistic approach called Vibrational Frequency Programming.
He only writes about what he has experienced, however, he cross references it with perspective from others around the world to try and remain balanced. He has no desire to influence, only to provide insight.
Latest posts by PDiddlyDacious (see all)
You are the creator / conductor of your own destiny!
A new supportive holistic programme is being launched called VFP, and it allows you to choose how much support you need or want on your journey.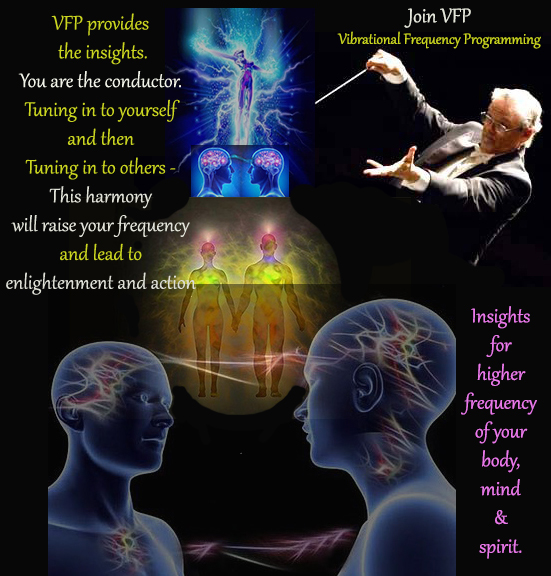 VFP (Vibrational Frequency Programming) provides support for you to learn how to be a great creator / conductor of your own life; to learn how to take control of your life and become the greatest version of yourself – read on:
VFP clarifies that 'The Law of Attraction is the same as The Principle of Cause and Effect'.
VFP suggests that:
The 'cause' is what you think' and the action that returns to you is the 'effect'.
If you want to increase the POWER OF THE THOUGHT then give it emotion.
The greatest emotion you can give is LOVE and this will provide you with love in return.
If you want to receive then you will get back proportionately what you give – this is not the same as taking or 'buying and selling' – you cannot buy and sell emotions.
If you want wealth then help others gain wealth, and if you want peace then help others gain peace.
If you want to be thin then you must STOP thinking about being fat because this will attract fatness.
If you want to be happy then you must stop thinking about things that make you unhappy and focus on things that make you happy.
VFP also provides great references from people such as Deepak Chopra, who said in his book 'The 7 Laws of Success' –
It is the intention behind your giving and receiving that is the most important thing. The intention should always be to create happiness for the giver and receiver, because happiness is life-supporting and life-sustaining and therefore generates positive energy. The return is directly proportional to the giving when it is unconditional and from the heart. That is why the act of giving has to be joyful and the frame of mind has to be one in which you feel joy in the very act of giving.
Then the energy behind the giving increases many times over.
VFP also confirms that The Principle of Love and Harmony is the same as The Law of Least Effort.
As a member of VFP you will receive FREE insights to support you and have the option to join our Members Section where much more detail and personal chat is available.
The following video is an example of how VFP finds relevant insights for you, without you having to spend ages surfing the Internet, We will be producing our own videos shortly, but until then, and even afterwards, we will still signpost other video's if they are good enough – so enjoy Sadhguru confirm much of what has just been written above.