You may Join VFP from Superfoods4u from this page.
Payment from this page may be made with an advance payment for the year. This will cost you £100.00 per household, and will save you £20.00 compared to the subscription payment.
The subscription payment is £10.00 per month per household and is ongoing until you stop it.
If you are visiting this page with a view to upgrading from the basic LiCrON Programme to full VFP membership (well done – that's a good decision) – simply select the £10.00 per month option and follow the instructions on this page – thank you.
The registration form must be completed before you pay for either option.
Added Value for Members:
Built in to your VFP Membership and additional to all the insights, we provide added value benefits, such as The LiCrON Programme, discount on products and events, free access to the founders publications, and a FREE Therapy Session for you or your family. This session may be delivered on a personal basis, or online. Full details of all the benefits within the members category below.
How much discount or commission do we give to VFP Members?
Fully registered members receive 20% discount off selected products or 20% commission on sales to your allocated beneficiary. We have an additional online shop within the members section that provides this members discount.
You can nominate yourself or another person or an organisation as the beneficiary (perhaps your community group or sports club / team). This information can be provided at a later date – you simply contact us to discuss and confirm the details. Or we may contact you.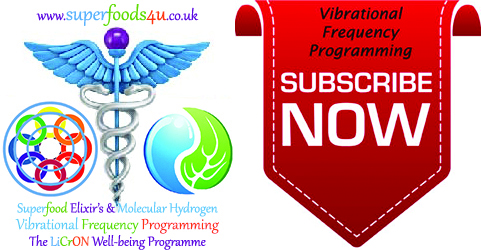 Step 1 – complete the registration form below – this will then return you to this page.
If you have completed the form above then proceed to Step 2 below.
VFP – Vibrational Frequency Programming Payment:
You will be redirected to a members page once your payment has been accepted. We will also send your Password to the email address you provide on your payment details – SO PLEASE MAKE SURE IT IS CORRECT.
Please use the Password we send you to login to our members section and enjoy.
Step 2 – click the Paypal Subscribe Button below.
(Superfoods4u is a trading division of "Get to the Top")
We may change the password and send you a new one –  we will use the information you provided on your registration form to do this – so please make sure it is correct. If it changes then please notify us and we will ammend your details.
GDPR COMPLIANCE – We do not retain any of your information online and we do not provide your data to anyone on a free or paid basis. Once you are a member we will not PUSH information to you or ring you. You can access the insights and products if you want and when you want without being pestered.