Marcus Pearson AKA P Diddly Dacious lives in Rochdale, England. He is a happily married man with five children and three grandchildren (and growing). He has written two books on the Purpose of Life. These were written after he claims to have been 'enlightened' in 2013 and he has had subsequent enlightenments since. Everything he does and how he lives is underpinned by his desire to help others become enlightened.
He has worked in a supportive environment all his working life. As a contract work study engineer, management consultant, entrepreneur, sports coach, instructor and mentor for children, young people and adults. For the past ten years he has also focused on digital marketing, health, nutrition and exercise. Marcus has developed his own range of superfoods and his own holistic approach called Vibrational Frequency Programming.
He only writes about what he has experienced, however, he cross references it with perspective from others around the world to try and remain balanced. He has no desire to influence, only to provide insight.
Latest posts by PDiddlyDacious (see all)
VFP THRIVE ROCHDALE

is a Positive Behaviour Change
Tuning Initiative:
We are not Thrive.org.uk – however their approach called social and therapeutic horticulture (STH), where trained horticultural therapists work with plants and people to improve an individual's physical and psychological health, communication and thinking skills is an initiative we support. In Rochdale Petrus Garden on Belfield Lane is a similar initiative, furthermore, it involves others to engage in more holistic involvement. VFP THRIVE Rochdale seeks to nurture such initiatives and to try and further support them with their own VFP retuning.
We are not thrive.uk.com – we support their approach to mental Wellbeing, Self-management and Beyond. They offer a unique depth and range of support in one application. From relaxation techniques such as meditation, to thought training, sleep improvement, and goal progress tracking. Their mobile app uses the latest computerised Cognitive Behavioural Therapy (CBT) methods to help people manage specific stressors and retrain unhelpful thoughts. Every Thrive question and feature has been validated by research and is continually developed by experts. Evidence is at the heart of everything they do.
"When you learn how to self-manage and build your resilience, you develop a kind of superpower that can improve all aspects of your life. It gives you control over your emotions and thoughts so you can choose how to react to each challenge you encounter in life. I want everyone to have the opportunity to develop this superpower."

Dr. Andres Fonseca
Thrive Co-Founder
We are not www.thriveprogramme.org – We feel this programme and its consultants provide fantastic support. They charge £895.00 for a 6-8 week course compared to our £108.00 – £432 for a full years retuning – it may suit your lifestyle so we encourage anyone to check them out.
We are VFP THRIVE  – part of www.superfoods4u.co.uk
VFP provides other aspects of tuning that combine to allow you to fully grow – to find and to be your inner super self. The underlying principles of VFP are simply "harmony between mind, body and spirit". When this is achieved you develop an inner superpower that raises your vibrational frequency. VFP will support you to retune and gain control over your ego, furthermore, it will support you to THRIVE as an individual, family and as a community.

Join VFP from superfoods4u and unleash your superpowers.

Marcus Pearson
The following infographics have been created to support our intentions with our THRIVE initiative (sometimes words are not enough).
Graphic 1 is indicating that each level of tuning effects the other – they are all connected.
VFP#1 seeks to retune the physical aspects such as the body and mind. This is a great place to start as most people have an ego that craves for satisfaction through desire and self gratification. VFP#1 tunes people into the realisation of what influences us to behave in the way we do. When this level of understanding is realised then people take better care of themselves and are not influenced as much by others. They become aware of their own power through greater self control and start to feel more positive about themselves and others.
VFP#1 – VFP#2:
VFP#2 is an educational thought transformation programme for retuning from the ego to the inner you. Once you master self-control and can control your physical actions and have started to adopt lifestyle patterns that make you feel positively better, then you have laid the foundation for discovering the true you that lies behind the ego. VFP#1 will support you to feel better about yourself; whereas VFP#2 will support you to discover and live as the inner true you.
Until you have harmony between who you really are and what you actually do then you cannot truly conribute to any community retuning such as VFP#4.
Graphic 2 is indicating that everyone is on a spiral of frequencies or awareness. Anyone may experience a higher or lower frequency state. VFP#2 tuning supports you to reach higher stages of awareness and being, rather than living in a state of fleeting awareness. Understanding and thought are not as important as being and doing. There is no point in becoming enlightened unless you back it up with action.
It is better to be and do as an enlightened being, than to be enlightenment and to do nothing.

You do not have to be enlightened to live as an enlightened being, however, it is always better to truly know why you do something rather than to simply follow blindly.

Marcus Pearson
The majority of people in the world are on a much lower frequency than they think – in terms of harmony between their mind, body and spirit.
This is explained in the graphics below: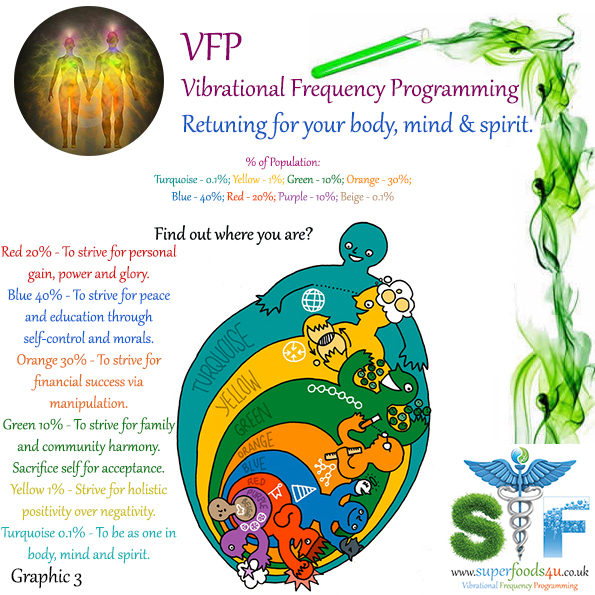 Graphic 3 uses the Meme theory from 'spiral dynamics' indicating that proportions of the population have a certain emotional tuning.
In relation to VFP THRIVE Rochdale, perspective on the challenges we face is a good starting point. We will be asking everyone who joins VFP (at some stage) where they think they are in relation to this scale of emotional intelligence (in actions not thought).
Click here to find out where you are on the emotional scale?!
VFP THRIVE ROCHDALE seeks to take action –
We DO NOT NEED to wait for the Government – read on . . .
Marcus Pearson, the originator of THRIVE Rochdale and the founder of superfoods4u and VFP, believes action is needed NOW.
"The VFP THRIVE Rochdale initiative seeks to empower people through 'a retuning of health, nutrition and well-being'. Once people realise they have it within themselves to alter their own future, they can free their auto-pilot beliefs that they are trapped; make positive choices as individuals and as a community and live a life with true purpose.

VFP seeks to bring 'like minded people' with positivity together. VFP Thrive Rochdale will use health, nutrition and exercise as an initial focus for further well-being. We seek to infuse people with positivity and surround them with positivity so they become positive".

Let's do it!

Marcus Pearson
The initiative is underpinned by a local need.
Government Sickness Statistics:
A recent government report on stress, indicated that:
The costs to Britain as a whole, is estimated to be £9.3 Billion which is equivalent to £17,600 per case.
In 2015/16 30.4 million working days were lost due to self-reported illness or injury.
9 million days due to work related illness.
On average each person suffering took around 16 days off work, 20 days for ill health and 7.2 for injuries.
Stress, depression or anxiety and musculoskeletal disorders accounted for the majority of days lost due to work related ill heath, 11.7 – 8.8 million days.
The average day lost per case for stress, depression or anxiety (24 days) was higher than for musculoskeletal disorders (16 days).
However, people in Rochdale Borough still live 2 years less than nationally, and within the Borough a person in the most deprived group might expect to live 10 years less than someone in the most affluent group. This is an unfair Health Inequality.
Mental Health in Rochdale:
Joint Strategic Needs Assessment (JSNA) identifies key issues affecting the health and wellbeing of our residents, both now and in the future.
In Rochdale 14.5% of patients aged 18 or over on GP practice registers are recorded as having depression. This is above the national average of 9.1% (NHS Quality Outcomes Framework 2016/17).
This initiative supports Public Health England
The Commissioning for Value packs and the RightCare programme place the NHS at the forefront of addressing unwarranted variation in care. I know that professionals – doctors, nurses, allied health professionals – and the managers who support their endeavours, all want to deliver the best possible care in the most effective way. We all assume we do so.

What Commissioning for Value does is shine an honest light on what we are doing. The RightCare approach then gives us a methodology for quality improvement, led by clinicians. It not only improves quality but also makes best use of the taxpayers' pound ensuring the NHS continues to be one of the best value health and care systems in the world.


Professor Sir Bruce Keogh National Medical Director, NHS England 
VFP Thrive Rochdale, however, does not want excuses and failures, instead it will put in place action that empowers individuals, families and communities to sort out their own positive pathway.
Depression is rife in Rochdale . . .
All of the areas where depression is rife in the UK are disproportionately poor and have above-average levels of people living alone, in poor physical health, unemployed and/or on benefits: all well-established risk factors for mental health disorders, according to the Adult Psychiatric Morbidity Survey.
The truth about Rochdale is that – 
In the Rochdale constituency, an alarming 45% of children live in poverty, 14,198. Of the whole borough, the highest levels of children in poverty recorded were here, with more than half of children experiencing poverty recorded in three wards.

At a local level, 57% of children in Central Rochdale ward live in poverty – the highest in the borough and the Rochdale constituency, closely followed by Milkstone & Deeplish, and Kingsway, both at 56%. Littleborough Lakeside is the lowest, with 27%.

In the Heywood and Middleton constituency, 35.5% of children are living in poverty. The area with the highest record was West Middleton (47%) and the lowest Norden, where just 23% of children are classed as living in poverty.
VFP THRIVE ROCHDALE seeks to take action in the face of negativity:
"However, local efforts are hampered by cuts to the welfare system and public services. Central government must re-introduce a meaningful anti-poverty strategy, with reversals to cuts in benefits and reforms to Universal Credit central to that strategy.

"Child poverty is a scar on the nation and is damaging the lives on children and young people across Greater Manchester. It is time for action."

Graham Whitham, Director of Greater Manchester Poverty Action (GMPA)

"Growing up in poverty means growing up trapped. It restricts a child's chances of doing well at school, of living a healthy and happy life, and of finding secure employment. We urgently need Government to set a course of action that will free our children from the grip of poverty."
It is easy to agree with Graham Whitham, however, we cannot provide solutions for the future, with the same mindset that caused the problems – "we have to be want we want before we become it"!!
This paradigm is what VFP will show people how to overcome.
We DO NOT NEED to wait for the Government – read on . . .
Marcus Pearson the founder of superfoods4u and VFP, believes action is needed NOW.
"The VFP THRIVE Rochdale initiative seeks to empower people through 'a retuning of health, nutrition and well-being'. Once people realise they have it within themselves to alter their own future, they can free their auto-pilot beliefs that they are trapped; make positive choices as individuals and as a community and live a life with true purpose.

VFP seeks to bring 'like minded people' with positivity together. Thrive Rochdale will use health, nutrition and exercise as an initial focus for further well-being. We seek to infuse people with positivity and surround them with positivity so they become positive".

Let's do it!

Furthermore, let us show others the way forward so everyone can duplicate this retune with positivity – I urge anyone reading this to JOIN VFP to support this retuning!

Marcus Pearson
VFP THRIVE Rochdale  – this is what it is:
It is for members of VFP only – this is so they can gain access to full support and contribute.
VFP THRIVE ROCHDALE is a Positive Behaviour Change Tuning Initiative:
It is a THRIVE Community Initiative to support individuals, families and the community of Rochdale change their behaviour to a more positive one – a higher frequency!
It will achieve this by bringing together the three other tuning programmes from VFP –
VFP#1,  VFP#2 and VFP#4 – VFP#3 Enlightenment IS NOT REQUIRED as it may never be attained and more significantly, you do not need to be enlightened to live and be as an enlightened being – (it just helps).
Here are the details:
The following information is an outline – exact details are provided within the VFP Members Section.
Plan to prevent weight regain via education, practical independence and self‑management.
Provide exclusive fitness classes for service users to allow them to learn how to exercise safely and get used to the environment, without experiencing anxiety or fear of embarrassment.
Provide cooking sessions with the opportunity for participants to prepare food together, and provide sessions at family friendly times.
Encourage members to monitor their own dietary intake such as 'insulin load' in food, drink and alcohol by keeping a food diary to inform goal setting or to monitor if goals are achieved.
Encourage use of an exercise diary so members can monitor their physical activity levels.
Ask members to self-weigh (via our ownweighing scales).
Recommend use of fitbits / apps for accurate monitoring of sleep and exercise.
Develop realistic activity plans including active travel and reducing sedentary time, tailored Changing Behaviour planning  to each members lifestyle and occupation (make them SMART goals, Specific, Measurable, Attainable, Relevant, Timely)
Use graded/incremental goal setting so that members can improve their activity levels in small steps without the experience of failure (eg challenge based approaches)
Support members with model portion size advice so they are aware of how much they should be eating.
Develop realistic dietary goals relevant to each service users lifestyle.
Agree a target weight for each member, for the duration of the programme, based on NICE guidance and individual member needs.
Agree weekly weight loss targets to achieve this in smaller increments.
Ask participant to set a personal relevant longer term goal, eg to lose 5–10% of their weight and maintain in 1 year
Members should keep a written record of their overall goals and specific plans. These could be indirectly related to weight loss: 'Getting back into those jeans I love', 'Dropping a dress size for my daughter's wedding day', 'Not feeling breathless walking up the stairs'
Develop healthy eating and physical activity plans and review regularly with members to ensure they remain suitable.
Establish weekly weigh-ins and alter behavioural goals accordingly if weight loss goals are not reached.
Review participants' concerns over physical activity and healthy eating goals in the previous week, and review goal adjustment in accordance.
Discuss perceived barriers to healthy eating and make plans how to deal with these barriers.

Encourage service users to think about their own time management, stress management and/or sleep pattern, and provide support/guidance/referral where appropriate.

Consider providing training for staff in alcohol and smoking brief interventions, or facilitate referrals to brief intervention services when/where appropriate.

Signpost/refer service users to relevant mental wellbeing services where necessary  provide/ sign-post to recipe ideas for healthier meals/ideas.

Overcome barriers to making changes to their eating and exercise habits (eg improve management of food cravings).
Provide online support for relapse prevention.
Identify individual, work-place and community barriers and solutions to overcome these.
Provide practical and educational food classes which focus not only on nutrition and healthy eating, but on cooking with healthier ingredients.
Provide entry level fitness classes or taster sessions for individuals who want to exercise but don't know how to do so safely, and provide instruction in use of gym equipment.
Encourage groups to engage in peer support and reinforce the positive changes members make.
Facilitate the setting up of support groups for members using social media platforms.
Provide one to one support for individuals, either face to face or via telephone, where required.
Create a peer buddy system that advises seeking family, friends and peers to take part in physical activities, help them to plan changes, make or accept changes to the family's diet or free up the participant's time so they can take part in preventive activities.
Encourage service users to share positive ideas with regards to nutrition and/or increasing physical activity.

Facilitate group activities outside of the programme (eg assisting service users in arranging a walking group, arranging supermarket tours, etc)

Where incentives are used to encourage physical activity outside of the group (eg gym vouchers, reduced annual gym fees), engage with fitness instructors with regards how best to support members using their facilities.

Encourage sessions to have crèches for children so parents can attend.

Ensure members are aware of issues surrounding mental wellbeing, and can signpost or refer service users to relevant services where necessary.

Feedback should apply to both healthy eating and physical activity elements; where nutrition staff run sessions, fitness instructors should provide them with feedback on service users' progress in gym/fitness classes.
Use self-report measures of physical activity at set time points within the weight management programme (eg enrolment, 12 week, 6 months, and 12 months)
Take records of attendance at fitness classes, or use a gym log to record service users' engagement with facilities.
Encourage use of activity trackers, monitoring apps, and other devices that provide immediate feedback on behaviour.
Check-ins on exercise and healthy eating in group sessions and discussion of progress.
Monitor weight throughout the programme, either weekly or per session – measure waist circumference at set points throughout the programme (eg enrolment, 12 week, 6 months, and 12 months) – monitor other factors such as mental wellbeing to identify additional positive outcomes.
 Encourage continuous investment in weight management
To date, there is no compelling evidence that certain behaviour change techniques lead to better weight loss maintenance than others. What is known is that extended care increases weight loss maintenance (Middleton et al., 2012 – systematic review with meta-analyses).
LiCrON supports the use of "Capturing Data" over a 12 month, 18 month and 24 month period: A tool to collect and record adult weight.
https://www.nice.org.uk/guidance/ph53/evidence/evidence-statements-431709229
The LiCrON tuning is particularly applicable to overweight and obese adults as a lifestyle weight management service:
A recent study in JAMA Network Open reported on weight status and weight loss attempts from 48,000 individuals in the NHANES data base between 1999 and 2016. They concluded that during that time frame, overall average weight increased despite an 8% increase in attempts at weight loss.  According to the NHANES data, when people try to reduce calories, exercise more, and/or add more fruits and veggies, unwanted pounds are tough to keep off – it just doesn't work – the information we have been providing IS WRONG!
According to Dr. Bret Scher, a board certified cardiologist and lipidologist practicing in San Diego, who writes medical blogs, reviews guides and news stories for medical accuracy and hosts The Diet Doctor Podcast –  a low-carb and keto diet would be a more effective interventions for long-lasting results.
This supports LiCrON tuning as an alternative method to conventional providers; especially for improving or reversing type 2 diabetes and supports LiCrON as the insights for sustained weight loss.
Join us and help promote the truth.